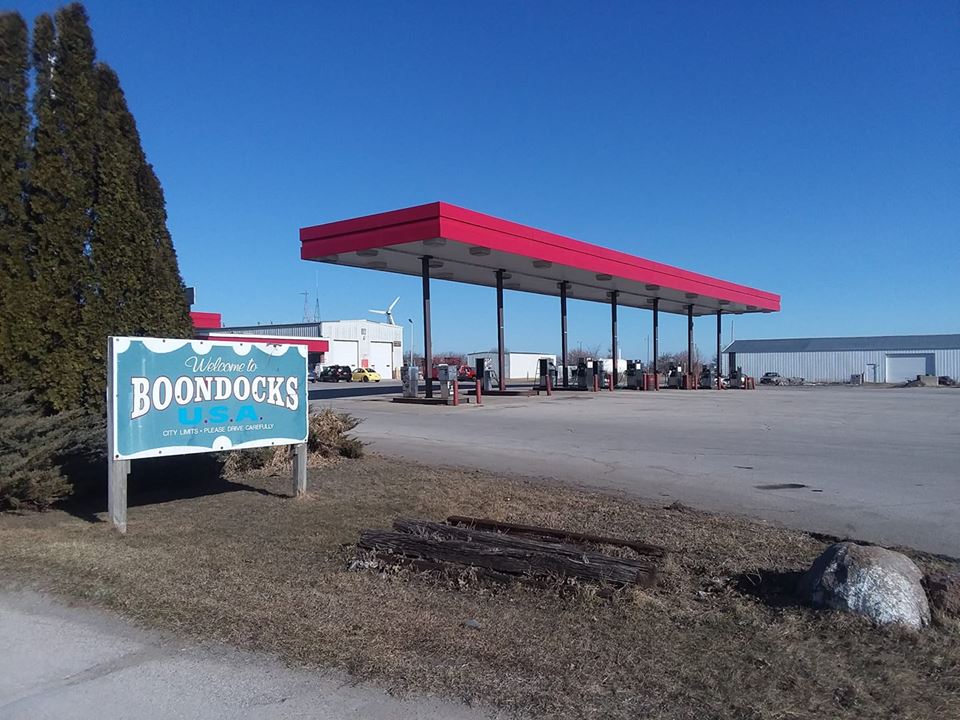 After 45 years, the famous Boondocks Truck Stop off of I-35 in Iowa has closed down. But now, thanks to new owners, the beloved truck stop has a chance to live on.
Boondocks was built in 1973 by owners Bob and Miriam Welch. According to Bob, he picked the location because that's where the highway used to end. Over the years, the highway was extended and the truck stop expanded. It grew to include a diner, a 30-unit motel, and a gift shop. Boondocks became so popular that they sold thousands of hats and T-shirts every year.
The truck stop is still mostly the same as it was in 1978 when the motel and gift shop were added. That's one reason why Boondocks is so legendary amongst truckers – if you've driven OTR, you've probably parked in the same spots, eaten at the same diner, and drank the same coffee as all the other truckers who've stopped there in the past 40 years.
It's also been home to trucking lore. Like the time in the '70s that a particularly nasty snowstorm closed down the highways. Boondocks stayed open. Stranded motorists banded together, and even State Patrol officers took turns making food and washing dishes. Three couples who met while stranded there ended up getting married.
Boondocks has fallen on hard times financially though. Like other mom and pop truck stops, they found it hard to compete with the big national chains. After a Flying J and a Love's opened up nearby, business dried up. That along with Bob's health issues and trouble finding employees meant it was time to close down.
When the truck stop went to auction, it was purchased by a California trucking company. Fresno-based Anyway Logistics purchased Boondocks for $500,000.
"Our plan is to reopen it and do the same thing they were doing before," said Anyway's president according to the Des Moines Register. "We will just clean up the property and bring it up to date."
As for Bob and Miriam, they say they're going to miss running the place.
"If it were up to me," said Bob. "I'd open it up again on Monday."
"It's been a wonderful life," said Miriam. "So, we just hope that whoever is going to take it on is going to enjoy this much as we have."
Source: gobytrucknews, overdrive, kcci, radioiowa, kcci, whotv
Image Source: Facebook