A new report from the research arm of the American Trucking Association (ATA) claims that increasing federal fuel taxes is the best, and even "only meaningful" way to fund large-scale infrastructure initiatives in the United States.
According to a press release issued by the American Transportation Research Institute (ATRI),  the "only meaningful mechanism for attaining the administration's vision for a large-scale infrastructure program is through a federal fuel tax increase."
Titled "A Framework for Infrastructure Funding," the report examines several different funding mechanisms based on four different criteria, but increasing the federal fuel tax was the only solution to score a perfect 5/5.
Those criteria are as follows:
Administration: How feasible is revenue collection, and how many collection points are there?
Efficiency: How much does it cost to collect revenue?
Equity: Who pays the tax/fee and who benefits?
Effectiveness: Is this tax/fee able to raise sufficient transportation revenue?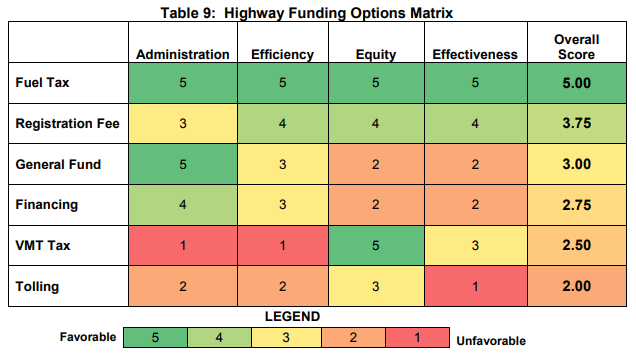 "We inherently believe the 'best case' scenario for funding highway infrastructure is the federal fuel tax, but we wanted more data to prove that," said ATRI's president, Rebecca Brewster, in an interview with Fleet Owner.
The federal fuel tax hasn't been raised since 1993, and most states haven't increased their fuel taxes enough recently to even match inflation. There are 9 states who haven't raised their fuel taxes once in the past 25 years.
There have been rumblings in the federal government that a fuel tax increase may be coming down the pipe. According to The Hill, last week President Trump's economic advisor Roy Cohn told a group of House members that they would be able to vote for a federal fuel tax increase early in 2018. A separate source claimed that the White House is looking to increase the gas tax by 7 cents per gallon.
Meanwhile President Trump himself seemed open to the idea, saying that "it's something that I would certainly consider," but White House quickly back-peddled on that claim.
In the ATRI report however, an increase of as little as 7 cents wasn't even considered. Below is a table illustrating the cost to drivers if gas and diesel taxes were increased by $.10 or $.25 a gallon.
Source: ATRI, prnewswire, truckinginfo, truckinginfo, thehill, fleetowner, freightwaves, truckinginfo, bloomberg