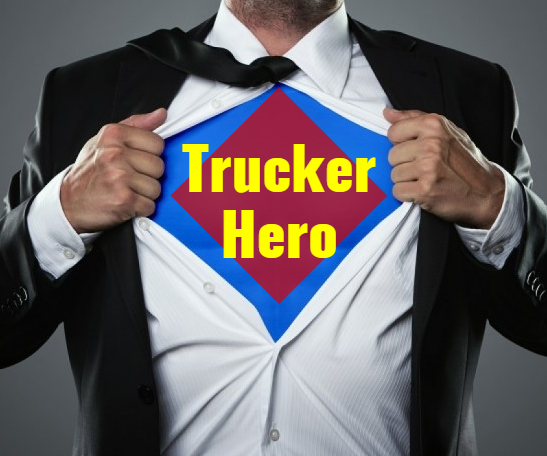 A New Jersey truck driver has earned his second set of Highway Angel wings in less than 6 months. This time, he stepped in and helped apprehend two drunken joyriders who had a young child in the car with them.
Chris Delancey was headed North on I-65 just shy of the Tennessee/Kentucky state line when the incident occurred. He saw a pickup truck swing wildly from the onramp across all three lanes of highway before narrowly avoiding the barrier on the other side.
"He almost hit the concrete barrier," Delancey told the Truckload Carriers Association, "then swerved back to the right shoulder, nearly colliding with another vehicle. Then he stopped dead in front of me."
His dashcam recorded as the car stopped, the male driver and female passenger got out, and they both urinated in the middle of the road. They then climbed back into the car, drove for another 300 yards or so, and did exactly the same thing again.
Delancey called 911 and told the dispatcher what was happening. He then turned on his flashers and kept his truck between the car and traffic approaching from behind.
Finally, the car stopped on the right side of the road, straddling the right lane and the shoulder. He could hear sirens in the distance, so Delancey pulled his truck in front of the vehicle to keep them from driving off.
Police were able to handcuff the man and put him in the squad car. The woman was standing next to the squad car while the vehicle was searched. Then, she opened the door of the police vehicle.
"She was trying to stuff a two-ounce packet of cocaine into the driver's mouth to swallow," said Delancey.
But Delancey was standing by the squad car as well. He was able to restrain the woman until the trooper returned and handcuff her. Once things had settled down again, the trooper told Delancey that he had found a little girl, approximately 4 years old, asleep in the front seat of the vehicle.
Driver and passenger were charged with multiple crimes including driving while intoxicated, possession of cocaine, wanton disregard for public safety, and child endangerment. The child has been taken into protective custody.
This is the second time that Delancey has likely saved a child's life. It was the day after Christmas last year when he responded to screams for help in a Flying J at 4am. Delancey, also a volunteer firefighter, performed life-saving CPR on a non-responsive child.
A reminder that you can take CPR classes online through the American Red Cross! It could save a life!
Source: highwayangel