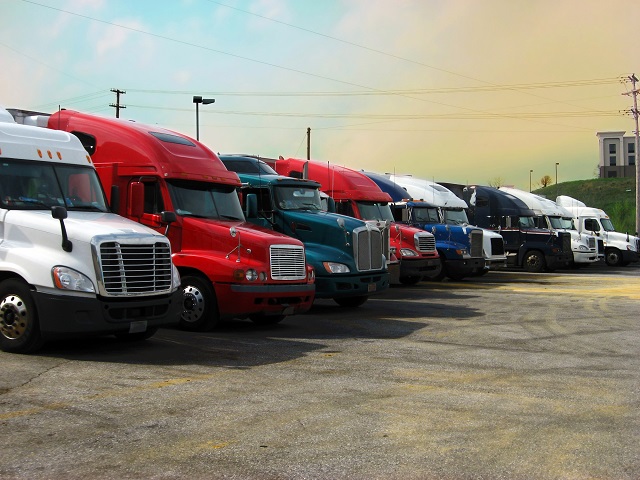 The panelists at a seminar on truck parking at the Mid-America Trucking Show last week consisted of representatives from the DOT, law enforcement, owner-operators, and large carriers. These groups don't generally see eye-to-eye from a policy standpoint, but one thing they do agree on is that "all the money in the world" won't solve the truck parking issue.
It seems so simple; if there isn't enough parking, build more parking spots. But according to the experts on the panel, that's not enough.
"Spaces obviously are good and are needed," said Scott Grenerth, head of regulatory affairs for the Owner Operator Independent Driver Association. "But it's going to take more than just spaces. We need them in the right places, and they need to be accessible and safe."
That "right places" bit may be the hardest. Since freight movement and the industry as a whole changes so rapidly, knowing where to put more parking has been an issue. The greatly anticipated Panama Canal expansion for example has the potential to make a major impact on where freight enters the country. According to the Federal Highway Administration's Tom Kearney, freight shifts like this make it difficult to know where money needs to be spent.
Smart placement and plentiful spots won't help though if drivers must still check multiple locations before finding suitable parking. How can a trucker know when to stop when he's not sure how long it will take to find safe parking for the night? Should he risk parking where he is, or go over his allowable hours of service to find a more suitable area?
To combat this, Will Schaefer of the Commercial Vehicle Safety Alliance says that getting drivers more informed about the real-time availability of spots is key. There are currently pilot programs in some states which let drivers know well ahead of time how many spots are available at upcoming parking areas using signage on highways. States have reported some success with those programs, and they could be expanded nationwide.
But unfortunately, even with all of these proposed solutions put together and with all the money in the world, the panelists don't think that would be enough to solve the parking problem. An additional solution was proposed which drivers have been touting for a long time: find a way to encourage shippers and receivers to allow truckers to park at their pick-up and drop-off points.
Thankfully, the Federal Highway Administration is looking to get more ideas from truckers during four workshops being held around the country to address the parking problem.
June 8 – Salt Lake City, Utah at the Utah Trucking Association headquarters
August 25 – Dallas, Texas at the Great American Truck Show
October 5 – Grain Valley, Missouri at the OOIDA headquarters
Date TBD for either July or September
Source: overdrive