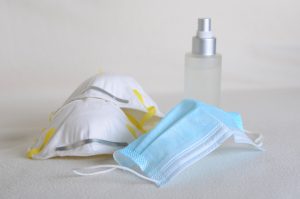 Since the U.S. Centers for Disease Control and Prevention (CDC) put out new guidance on Saturday aimed at the transportation industry, there has been some confusion. Despite what you may have read or heard; CDC does not expect truck drivers to wear a mask when they are alone in their vehicles.
The new guidelines require a mask to be worn by all workers and travelers in U.S. transportation hubs; on trains, buses, taxis, ships, ferries, airplanes, subways, and rideshares; and "any other areas that provide transportation." Masks must be worn "when boarding, disembarking, and for the duration of travel."
There was some confusion as to whether "any other areas" included trucks or not. As long as you do not have a passenger in your cab with you, the CDC guidelines do not require you to wear a mask while in your vehicle. If you are required to wear a mask for a different reason however, the CDC guidelines do not exempt you from that responsibility.
"America's transportation systems are essential," said CDC Director Dr. Rochelle P. Walensky, MD, MPH according to a CDC press release.  "Given how interconnected most transportation systems are across our nation and the world, when infected persons travel on public conveyances without wearing a mask and with others who are not wearing masks, the risk of interstate and international transmission can grow quickly."
Source: overdrive, freightwaves, CDC