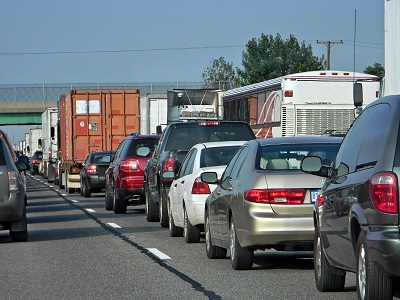 Congestion is a problem for almost every driver. But for professional truckers, knowing how, when, and where to drive in order to avoid traffic can make a huge difference. How big of a difference?
Every year, the American Transportation Research Institute (ATRI) publishes a list of the most congested highways in the country for freight. As the research arm of the American Trucking Association (ATA), the ATRI has a huge set of truck GPS data to draw from.
According to the ATRI, the number one most congested bottleneck in the country is on I-95 in New Jersey. The intersection with Route 4 just before the George Washington Bridge into Manhattan adds an extra 29 minutes of driving each day. The average speed for a truck in that area is 31.7mph. And even during non-peak hours, it only goes up to 35.2mph.
Unsurprisingly, major metropolitan areas pop up again and again in the top 10 and top 100 lists. New York City, Atlanta, Los Angeles, Houston, Cincinnati, Chicago, and Nashville account for all of the top 10 bottlenecks for freight. For the full list, you can see the ATRI report here.
Congestion cost the trucking industry 1.2 billion hours of lost productivity in 2018. That's the equivalent of 425,533 truckers getting paid to sit at home and twiddle their thumbs for a full year. So, it's not surprising that the ATA and large carriers see congestion as a major issue. But given that most company drivers are paid by the mile, a good deal of the $74.5 billion that the ATRI claims congestion costs every year is actually lost by drivers.
Source: ATRI, truckinginfo, overdrive, nj, pittsburghcbs