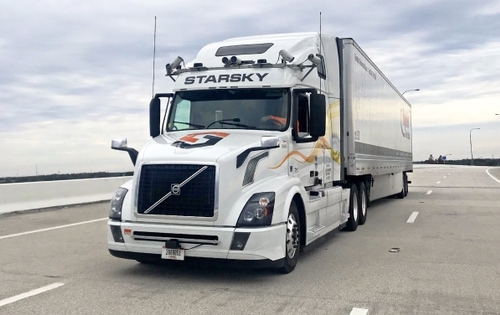 Two weeks ago, an autonomous truck drove itself on a public highway in Florida without a safety driver behind the wheel. In fact, there was no one inside the truck at all.
Starsky Robotics announced on June 26th that it had reached a milestone in the race for a fully autonomous truck. On June 16th, the company put an autonomous truck on a 9.4-mile stretch of the Florida turnpike without a human inside.
"We are now the only autonomous company that's testing trucks without having people in the cabs on public roads with the motoring public," CEO Stefan Seltz-Axmacher told FreightWaves. It's an attention-grabbing claim, but one that may only be true because other companies keep safety drivers behind the wheel while testing their autonomous trucks in case one of their systems fails.
During the test-run, a human driver sitting 200 miles away in Jacksonville, Florida remotely piloted the truck only at the very beginning and end of the trip. According to Starsky, the operator drove the truck from a rest stop in Okeechobee, FL onto the highway before letting the autonomous system take over. Then the operator took back control to take the truck off the highway, through a toll plaza, and parked it at its destination.
Starsky isn't the only company experimenting with this kind of remote piloting, but it appears they are the only ones doing it on public roads with no safety driver in the vehicle as a failsafe. Or perhaps they're the only ones admitting to it.
Source: overdrive, ttnews, freightwaves, venturebeat, starsky, washingtonpost, businessinsider, autonews