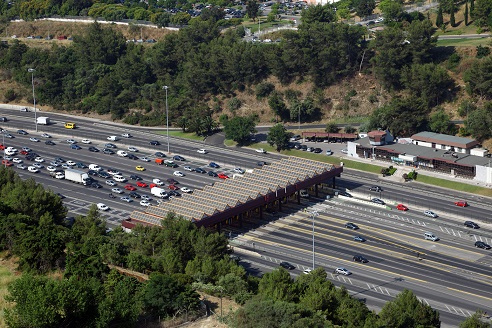 As states struggle to plug the holes in their transportation budgets, tolls come up again and again as a potential solution. New tolls, truck-only tolls, or – in the case of Pennsylvania – tolls that have increased every single year for since 2009. The tolls have increased so much that the state has been fighting off a lawsuit which now might be headed to the U.S. Supreme Court in order to answer the question: Can tolls be too high?
At the core of the question is the Commerce Clause of the U.S. Constitution, specifically the "Dormant Commerce Clause" which prohibits states from passing legislation that discriminates against or excessively burdens interstate commerce. So, at what point can tolls be labelled "excessive?"
According to lawyers for the Owner Operator Independent Drivers Association (OOIDA), the PA Turnpike Commission has been collecting tolls illegally ever since a 2007 state law forced the Commission to pay hundreds of millions of dollars a year to PADOT for non-turnpike expenses. Further, in 2009, tolls went up by 25%, and have increased every single year since then by an average of around 7.4%.
Tolls have increased so much that OOIDA's lawsuit claims that the turnpike collects 2.5 to 3 times the amount of money needed to pay for the turnpike.
Two previous courts ruled against OOIDA, so now the group is fighting to get the case heard by the U.S. Supreme Court.
"Never in the history of the United States has Congress or a court concluded user fees of this magnitude are constitutionally appropriate," said the Supreme Court petition for review according to the Post-Gazette. "The Third Circuit's decision sanctions these excessive tolls and permits states to charge unlimited tolls on federal-aid highways in violation of the dormant commerce clause and the constitutional right to travel."
Source: freightwaves, pennlive, post-gazette, thenewspaper, cornell