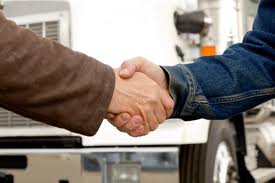 According to the ATA, the driver turnover rate has exceeded the 100% mark for the first time in 4 years. The ATA's quarterly Trucking Activity Report stated that fleets reporting over $30 million in revenue had a 16% increase in driver turnover in the 2nd quarter alone, bringing it to 106%. This means that on average, drivers at large companies change jobs every 343 days.
"We continue to see steady, albeit sluggish, growth in freight volumes, which increases demand for drivers," said Bob Costello, ATA chief economist. "That, coupled with continued pressure on fleets to improve their safety records as a result of regulatory oversight changes, is increasing competition among carriers for drivers with clean histories."
Another major reason for such high driver turnover
is that according to Costello, the industry "is currently short somewhere in the range of 20,000 to 30,000 drivers," so companies are constantly battling each other for drivers. Due to the way many of these companies pay their recruiters, it is more profitable (for the recruiters, not the companies) to focus on hiring new drivers rather than taking care of and retaining current drivers.
The turnover rate at smaller companies is lower, but still shockingly high at 86%, the highest it's been since 2007.
The turnover rate for less-than-truckload fleets increased just from 8% in the first quarter to 9% in the second quarter.
The numbers are extremely high now, but trucking as always been an industry with a high turnover rate. Is it a good thing or a bad thing, and more importantly, for whom?
 Next Story: State Highway Safety Chiefs Call For Handheld Cell Phone Ban
Sources:http://www.overdriveonline.com/truckload-driver-turnover-surges-in-2q/, http://fleetowner.com/fleet-management/driver-turnover-hits-highest-point-4-years