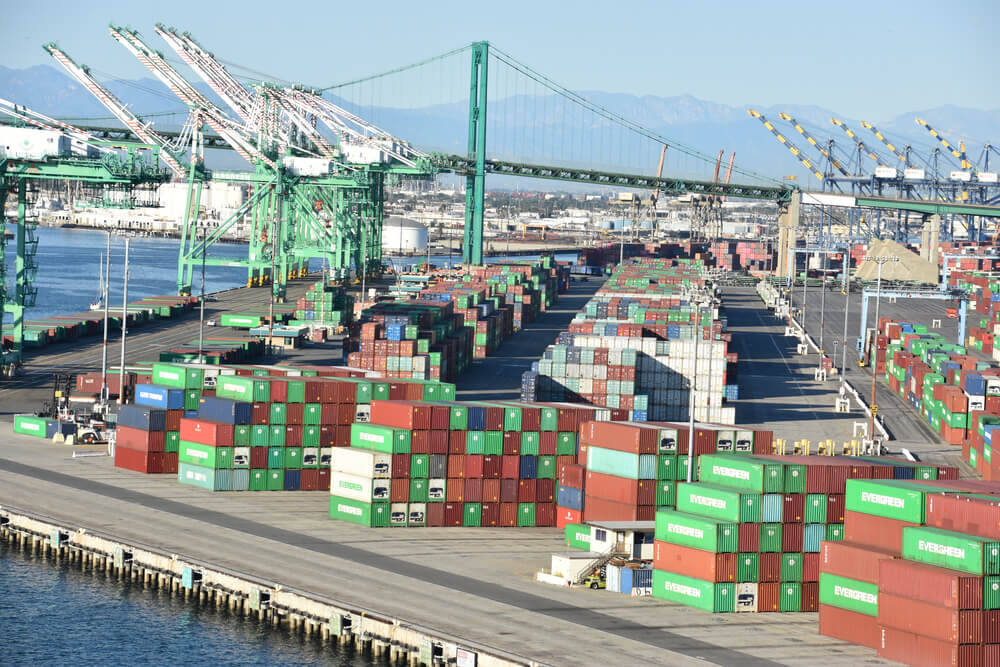 As West Coast ports suffer through crisis-level bottlenecks, idling cargo ships have freight carriers feeling like their in a John Carpenter movie. More specifically, the Escape from New York sequel starring Kurt Russel as "Snake Plissken" — Escape from L.A. In recent weeks, a record number of containers arrived in Houston as retailers, logistics professionals, and lawmakers want ships bound for the City of Angeles rerouted.
"Are your products stuck off Long Beach? Texas ports are wide open. Port delays are up to a hundred days in California. In less than two weeks your cargo can set sail from California and be at one of our 24/7 functioning Texas cargo ports, unloaded and on their way to shelves near you," Texas Gov. Gregg Abbott reportedly said. "Choose a state that doesn't see inflation and America's supply chain backlog as a good thing. Escape California. Everyone's doing it. Choose Texas."
Upwards of 281,000 containers circulated through the Port of Houston during September, marking an 11-percent increase from the same period in 2020. Texas port employees have worked diligently to keep pace, but cargo ships reportedly experience a two-day wait to offload. By contrast, more than 110 cargo ships have reportedly been sighted idling far off the coast and stretching south to San Diego. It's not uncommon for container ships to wait weeks before they can dock and begin the slow offloading process.
Much finger-pointing has occurred since the Port of L.A. was overwhelmed by imports. Freight carriers, retailers, crane operators, and truckers, among others, have shouldered the blame. But the men and women who haul freight out of Houston have certainly demonstrated what truckers can accomplish.
"You see it's just truck after truck after truck," public relations director Lisa Ashley reportedly said, noting that approximately 10,000 trucks come through the port every day now.
Florida Gov. Ron DeSantis echoed the supply chain pitch made by Gov. Abbott, saying the Sunshine State's ports were ready to receive goods and materials. Backing his play, Florida's Sen. Rick Scott and Rep. Carlos Gimenez supported a Supply Chain Emergency Response Act provision that would allot $125 million to divert ships from L.A., Long Beach, and other Pacific Ocean ports to the Gulf of Mexico.
"Like Florida, several states in the Gulf and the Eastern Seaboard have both the port capacity and the logistical capabilities to ensure goods reach our shelves in a timely and efficient manner," Rep. Gimenez reportedly said. "Getting these cargo vessels to Florida and other Eastern states also alleviates the shipping container shortage, which has made it difficult for American producers — from our farmers and ranchers to our domestic manufacturers — to ship their goods and products abroad."
The lawmakers say the unused CARES Act money can be leveraged to help unclog the supply chain. The Florida lawmakers reportedly noted some cargo ships have been stuck in the logjam for a full month. It may be a hard pill for Californians to swallow, but rerouting appears to be in the nation's best interest. Cargo ships need to Escape from L.A.
Sources: npr.com, freightwaves.com