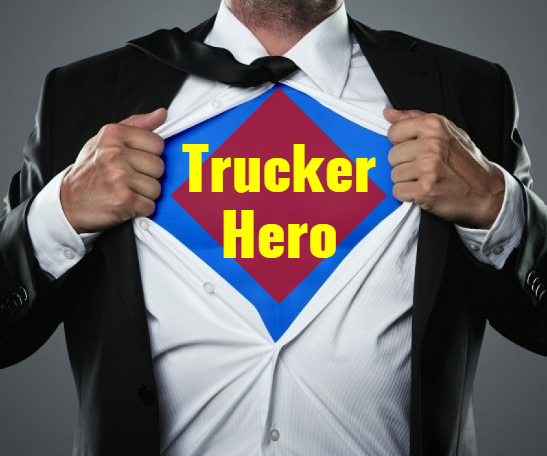 It would have been enough if Stafford Albertson had only stopped to give assistance to a fellow trucker when he saw a wreck up ahead. And it would have been sufficiently heroic if he'd only pulled a trapped driver out of the mangled wreck. But this trucker's quick thinking and heroic actions also kept a helicopter and an unknown number of other drivers safe from harm.
Albertson was about 70 miles outside of Shreveport, Louisiana when he heard about a wreck ahead of him over the CB radio. The wreck involved two large trucks and a van. As he approached, he could see a van and two trucks. One of the trucks was flipped over on its side.
"The cab was mangled," Albertson told TCA. "The door had been torn off and the driver had been ejected."
That driver was already being tended to, but Albertson heard from a bystander that there was another trucker still trapped inside the sleeper. Sure enough, he could hear the man moaning.
When he crawled inside the truck, Albertson found the driver trapped underneath panels of the truck, a microwave, and a mattress. All he could see were the driver's legs.
Figuring that the man must have been asleep in the sleeper when the accident happened, Albertson talked with the man as he dug him out of the rubble. When he finally pulled the driver from the wreck, police were arriving on the scene.
It was then that Albertson heard that a rescue chopper would be arriving soon. There was a problem though. The truck had been carrying a load of paint cans which were scattered all across the roadway.
Albertson had served as a "combat life saver" during his time in the military and had experience working with helicopters.
"I knew those paint cans would become like shrapnel when the helicopter came in," Albertson said. "So we needed him to land where no one would be too close."
Albertson explained to the sheriff about his military background and then told him what was likely to happen. The sheriff passed the word along to the helicopter pilot. Albertson then helped guide the pilot to a safe landing.
Well done, driver!
Source: overdrive, TCA, truckersnews