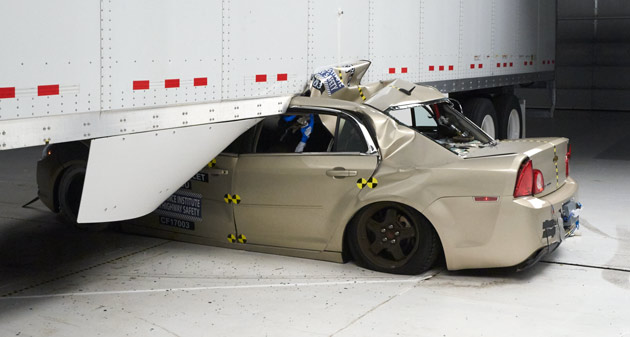 Congress has proposed a bill which could mandate sideguards and increased requirements for rearguards on all trucks. Proposed by Sen. Kristen Gillibrand and co-sponsored by Sen. Marco Rubio, the bi-partisan bill aims to help mitigate the damage and save lives when cars and trucks collide.
Introduced on Tuesday, the Stop Underrides Act of 2017 takes aim at traffic deaths caused when a car runs into the side or rear of a truck and is pushed under, often causing catastrophic damage to both the vehicle and its occupants. According to the Insurance Institute for Highway Safety (IIHS), 301 people died in side underride crashes in 2015 alone.
In May of this year, IIHS released a report recommending that regulators consider making underride guards mandatory. The recommendation came after tests found that even at only 35 mph, a car colliding with the side of a trailer would be pushed under, shearing the top of the car off, and causing certainly fatal injuries to a driver. With a side underride guard in place, the driver's life would likely have been saved. The National Highway Traffic Safety Administration is currently considering side underride regulations.
After the report was published, the ATA voiced concern about the additional weight that side underride guards would add and worried that they could cause structural issues in the trailer. Instead, the ATA pushed for "wider deployment of advanced vehicle safety technologies like automatic emergency braking and forward collision warning systems can help prevent all kinds of crashes, including those into the sides of truck."
The Truck Trailer Manufacturers Association has also voiced their opposition to side underride guards in the past, claiming that there are currently insurmountable cost and technical challenges which prevent them from being feasible.
According to Sen. Gillibrand however, underride guards "are an easy solution for protecting people and preventing them from dying when a car collides with a truck."
Source: truckinginfo, nbcnews, fleetowner, overdrive, syracuse, wjmynews2, truckersreport