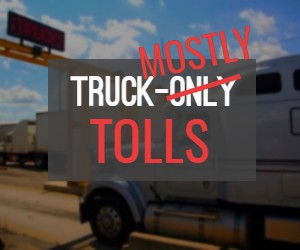 Virginia lawmakers have introduced twin bills that would put tolls on I-81. While they can't technically be called "truck-only tolls," it seems the legislation was deliberately crafted to raise an estimated $150 million per year almost exclusively off of heavy truck traffic.
Bills were introduced in both the Virginia Senate and House of Representatives. The bills have bipartisan support. There were introduced and sponsored by Republicans and supported by Virginia's Democratic Governor, Ralph Northam.
They call for the construction of new over-head toll gantries along I-81. The tolls would initially be 11 cents per mile for cars (class 4 and under) and 17 cents per mile for trucks (class 5 and over).
But the bills have multiple giveaways for car drivers and none at all for truckers.
For example, in a giveaway to commuters (in-state voters), cars won't need to pay for the first gantry they pass through in each direction every day. Since the gantries would be about 50 miles apart, that means cars could theoretically travel as much as 196 miles round-trip every day without having to pay a dime. That rule doesn't apply to truckers.
If a car driver needs to travel more than that, they will be able to buy an annual pass which allows them unlimited access to I-81 for an entire year for only around $30. Truckers won't be allowed to buy an annual pass.
So, while it may not technically be a truck-only toll proposal, the transportation industry is still treating it like one. The ATA wrote a letter to the Governor, warning that the tolls would "raise serious legal issues." The carrier group is currently involved in a lawsuit against Rhode Island over their allegedly discriminatory truck-only tolls.
Business groups are joining the transportation industry in opposition of the bills. Toll critics are claiming that adding tolls will have a negative impact on local economies and individual businesses that depend on traffic traveling I-81.
"This is a litmus test for us," said Virginia Manufacturers Association CEO Brett Vassey according to the Associated Press. "If you want more manufacturing, you'll find an alternative funding other than tolling. If you want less manufacturing, put the tolls on 81."
Even some politicians are pushing back against the tolls. Sen. John Edwards, D-Roanoke proposed a wholesale gas tax increase to 5 percent instead of new tolls. His proposal would put a proportional burden on local car traffic and trucks alike. As a result, he says it would bring in $850 million annually instead of the $150 million raised by the proposed tolling plan.