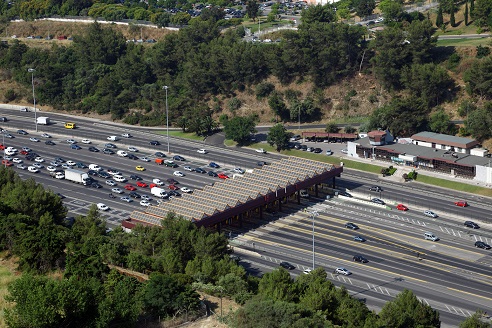 The Connecticut Department of Transportation (CTDOT) released a study last week which claimed that the state could raise $1 billion per year with a new tolling plan. This news comes just after the election of Connecticut's new Governor who has said he wants to impose truck-only tolls on out-of-state truckers to fill the state's funding gaps.
Under the plan, the state would add 82 toll gantries on all of the state's interstate highways (95, 84, 91, 395, 691 and 291) and multiple State Routes including 15, 8, 2, 9, and the Merritt and Wilbur Cross parkways. Gantries would be installed an average of 6.6 miles away from each other.
To put toll numbers into perspective, the DOT claims that in order to raise a similar amount of money by raising the gas tax, it would require an increase of 67 cents per gallon. That would bring the total gas tax up to 92 cents per gallon.
But the study was commissioned by the current governor of Connecticut. The governor-elect has said that he's interested in tolling trucks only – not passenger vehicles.
"Governor-elect Lamont stands by his campaign promise not to toll personal vehicles, but to join our neighboring states in tolling heavy trucks given the significant damage they do to our roads and bridges," said a spokesperson for Lamont according to the Hartford Courant. "This study confirms the Governor-elect's projection that tolling trucks would generate significant revenue that can be used to support Connecticut's transportation infrastructure."
Under the study's tolling system, trucks make up 29% of toll revenue. That means truckers would end up paying around $290 million a year. A truck without an E-ZPass would be charged tolls equalling 47.2 cents per mile if they drive during peak hours.
Connecticut is reportedly waiting to see how the legal challenge to Rhode Island's truck-only tolls plays out before putting forward a formal plan of their own.
According to the CTDOT Commissioner, the study isn't necessarily the plan that the state will adopt moving forward, but is instead supposed to start a dialogue. The $2 million preliminary study will now be followed up by a $10 million in-depth study to examine the operational and environmental impacts of an all-electronic tolling system in the state.
The full study report is available here.