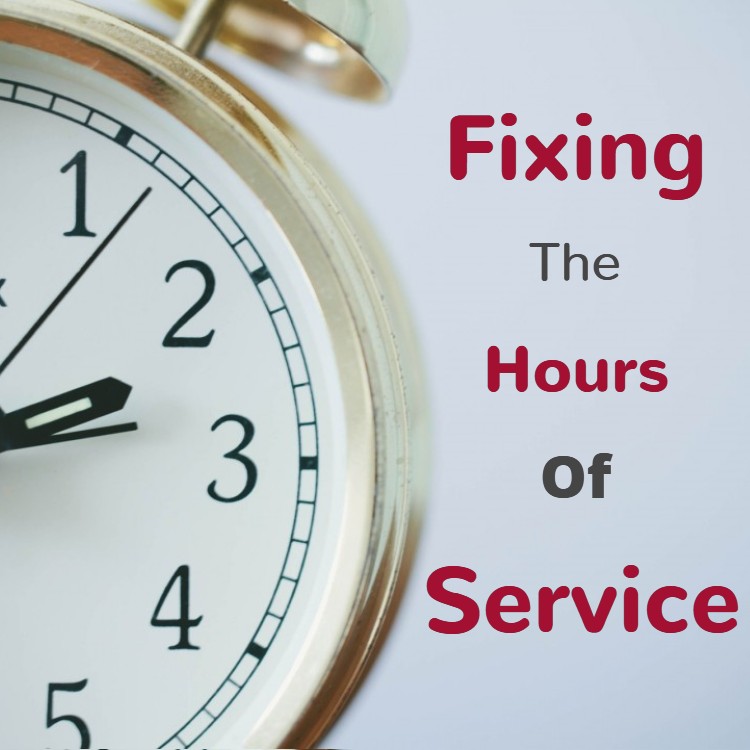 They're months behind schedule, but the Hours of Service (HOS) changes have finally been proposed. Despite having only been available to the public for a few days now, they are already being picked apart by journalists and drivers alike. Here is your comprehensive look at what exactly the HOS changes entail.
The Notice of Proposed Rulemaking (NPRM) put out by the FMCSA has five proposed changes. The first would increase the amount of drive time that drivers get in order to "mitigate the effect" of adverse driving conditions like bad weather from two hours to four hours. The second would increase the short-haul exemption radius from 100 to 150 air miles.
While the first two likely wouldn't have an impact on the vast majority of truckers, the next three might affect everyone on the road.
Mandatory 30-Minute Break
Currently, drivers are required to break up their 11 hours of drive time with at least one break lasting at least 30 minutes. That time must be logged as off-duty.
Under the proposed rule however, that 30-minutes could be logged during "on-duty/not driving" time. So, if you're filling up your tank and getting a cup of coffee at a rest stop, that can be your 30-minute break.
Additionally, it will only be required after 8 consecutive hours of driving time instead of after 8 hours on on-duty time.
The 30-minute off-duty break was the target of a huge number of comments submitted to the FMCSA. While the change does add flexibility, some drivers are still unhappy that it has survived in any capacity.
Split Sleeper Time
Another of the most-requested changes to the HOS rules was allowing drivers to split up their 10 hours of required sleeper time into multiple segments different from just the current 8/2 split that's allowed. While the proposed rule does give a little more flexibility, it's not much.
In the proposed rule, drivers would be able to "take their required 10 hours off duty in two periods, provided one off-duty period (whether in or out of the sleeper berth) is at least 2 hours long and the other involves at least 7 consecutive hours spent in the sleeper berth."
With a minimum of 7 hours for the long block, FMCSA would essentially be allowing an 8/2 or a 7/3 split. That means it would not allow more sleeper time to be split 6/4 or into more than 2 blocks of time. FMCSA notes that the time would not be counted toward a driver's 14-hour on-duty time.
On-Duty "Pause Button"
In most situations, drivers can have up to 14-hours before they need to fulfill their minimum requirement of 10 hours of off-duty rest time. Once you start driving for the day, it's a race against the 14-hour clock. But under the new rule, FMCSA is proposing to allow drivers to "pause" their 14-hour clock for between 30 minute and 3 hours. If a driver does that, they will need to take 10 consecutive hours off-duty at after they're done driving.
The proposed rule would allow a driver waiting to be loaded or unloaded to pause his clock and not lose that driving time. But the 10 consecutive hours requirement would mean that regardless of whether you'd already taken a 3-hour sleeper berth break, you'd still need to wait at least 10 hours before driving again after you turn in for the night.
Both owner-operators and large carriers have reason to be thrilled with this change. For owner-operators, it allows the flexibility they need to wait out bad traffic or mitigate the damage caused by a slow shipper or receiver. They'll be able to drive more miles, take more loads, and – hopefully – make more money. Carriers will be able to get more driving hours out of their drivers per day, reducing the number of units they need to have on the road at once and/or increasing the number of loads they can take.
At first glance, it seems like a good deal for company drivers too. Covering more miles per day means making more money. But critics on the proposed rule point out that carriers are essentially getting the ability to extend their driver's days by 3 hours. This could effectively mean a driver's workday would be 17 hours long.
Source: FMCSA, FMCSA, gobytrucknews, truckinginfo, truckinginfo, fleetowner, overdrive, overdrive, freightwaves, freightwaves, freightwaves, ttnews, facebook, businessinsider