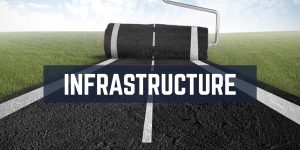 The U.S. Department of Transportation (DOT) will need to spend big money if they are going to bring the nation's infrastructure into the 21st century. While the need for money is clear, when it will come from isn't. We know at least that higher fuel taxes are likely out of the question as the nation and the world transitions toward electric vehicles.
According to statements from the White House, infrastructure is a priority for the current administration. That's true for the previous administration, and the one before that. In fact, infrastructure has been a popular topic on the presidential campaign trail for decades now.
The campaign is over and infrastructure is still a major talking point. President Biden's "Build Back Better" initiative ties the issue to economic recovery, the fight against COVID-19, and even speaks of it as a matter of national security.
"We've got to take the opportunity to transform our deteriorating infrastructure into a 21st-century system that creates more of those opportunities and accelerates equitable growth, and critically increases the global competitiveness of our country at a moment when there's no time to lose," said DOT Secretary Pete Buttigieg on a virtual address to the American Association of State Highway and Transportation Officials (AASHTO).
An additional fuel tax isn't considered a viable option. Electric vehicles are coming to the U.S. and the rest of the world. Car manufacturers like Volvo are announcing that they won't offer gas cars even as an option. Every car sold by Volvo will be electric by 2030.
A common idea to replace a fuel tax in the era of electric vehicles is a vehicle mile tax. Buttigieg didn't rule the idea out entirely. He did note that officials are worried that levying a vehicle mile tax could hit lower income, rural Americans hard. Anyone who drives a long distance for their commute – as is more common in lower income rural areas – would end up paying more than their suburban and urban, higher-paid counterparts.
So how will the DOT pay for the big plans Build Back Better has? There's a lot that's unknown. According to Buttigieg, there's at least one thing that is known – "What we do know is that we've got to come up with revenue."
Source: truckinginfo, theverge