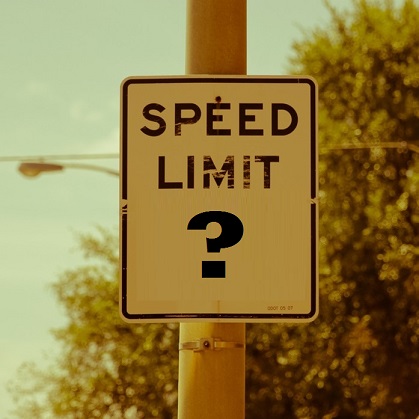 It's been coming for a long time and now it's finally here. The Federal Motor Carrier Safety Administration is finally introducing legislation to require speed limiters in vehicles over 26,000 pounds.
While an enforced rule is still likely a long way off, the FMCSA has just taken the first concrete step towards requiring an incredibly controversial piece of technology. They have not yet set a specific speed limit, but in the proposal the agency examined the possibility of limiting speeds to 60, 65, or 68 mph.
Speed limiters have been available for a long time now with advocates saying that they make highways safer. Indeed, the analysis provided in the proposal claims that a 60mph limit would prevent between 162-498 highway deaths per year, while the 68 mph limit would prevent between 27-96 deaths per year. All three speeds would result in thousands of fewer injuries.
The reason the FMCSA claims that speed limiters make the roads safer is fairly obvious – slower vehicles cause less damage when they crash. But critics claim that forcing heavy vehicles to drive much slower than the surrounding traffic creates additional hazards. It also impedes a driver's ability to speed up if he or she needs to accelerate out of a dangerous situation.
"Highways are safest when all vehicles travel at the same relative speed. This wisdom has always been true and has not ever changed," said OOIDA executive vice president, Todd Spencer, who has strongly opposed mandatory speed limiters. "No technology can replace the safest thing to put in a truck, which is a well-trained driver."
Safety is not the only concern when it comes to speed limiters though. According to the proposed rule, the cost savings from reduced fuel consumption, fatalities, and pollution would equal a total of anywhere from $500 million to over $5 billion a year depending on what the speed is capped at.
If the proposed rule does end up becoming law, speed limiters would be required in all new vehicles. While the FMCSA has not yet called for them to be installed in existing vehicles, they are "seeking public comment to improve our understanding of the real-world impact of implementing a speed limiting device retrofit requirement."
New speed limiters would also have a new feature: Storing previous speed limiter settings. Law enforcement would need to be able to check not only what the speed limiter is currently set at, but also the two previous settings along with a time and date that they were changed. This would theoretically prevent drivers or carriers from setting a higher ceiling on the limiter, only to lower it to a legal level when they are inspected.
The FMCSA will be seeking public comment on the notice of proposed rulemaking when it is officially published in the Federal Register, but for now, you can read the notice that's currently available online here.
Source: fmcsa, fmcsa, fmcsa, gobytrucknews, truckinginfo, fleetowner, fleetowner, fleetowner, overdrive, overdrive, fmcsa, joc