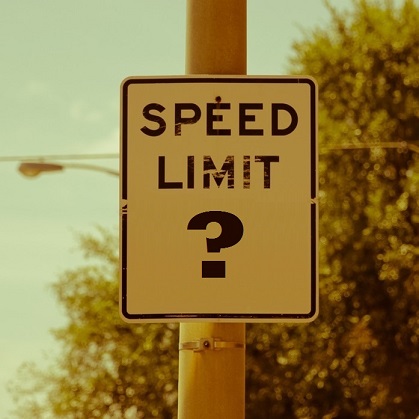 Last week the news broke that the FMCSA is finally ready to create their proposed rule requiring speed limiters to be equipped on all heavy vehicles. This week the notice of proposed rulemaking was officially published and they are seeking comments and feedback from the public. The proposal contains some surprising claims, including that the FMCSA expects small carriers and owner-operators to make less money if the rule goes into effect, possibly forcing drivers to work for larger carriers.
Last week's TruckersReport article on speed limiters was one of the most commented on stories in our community's history. Whether for or against, truckers made their voices heard. Now the FMCSA is asking for comments to be made directly to them on their proposed rule.
You can read all 32 pages of the Notice of Proposed Rulemaking here in its entirety. The gist of the rule is that every new multipurpose passenger vehicle, truck, bus and school bus with a gross vehicle weight rating of more than 26,000 lbs. will need to be equipped with a speed limiting device. The FMCSA is also considering extending that requirement to not only new vehicles, but also any manufactured after 1990.
The FMCSA has not yet determined what speed drivers will be limited to, but they have put forward 60, 65, and 68 mph as possibilities.
Supporters of the proposed rule claim that mandatory speed limiters would improve highway safety and fuel efficiency. The claims of safety are largely based off of a 1991 report published by the NHTSA, but the FMCSA admits that "the concerns and conclusions in that report are no longer valid." Despite that, the FMCSA does not plan to conduct a new study, citing "limited agency resources."
One of the chief concerns among those opposed to the rule is that limiting heavy vehicles to a significantly slower speed limit than the traffic around them might actually making an accident more likely to happen.
"Highways are safest when all vehicles travel at the same relative speed. This wisdom has always been true and has not ever changed," said OOIDA executive vice president, Todd Spencer.
In fact, even the FMCSA notice of proposed rulemaking admits that some studies "have found an increased crash risk when vehicles deviate from the mean speed."
Some critics of the proposed rule claim that money, not safety, may be the main concern. While the American Trucking Association is in support of speed limiters, the Owner Operator Independent Drivers Association is staunchly against the proposed rule.
There is concern that small fleets and owner-operators could be put out of business by being forced to drive the same reduced speed as the mega-carriers who currently use speed limiters.
The notice of proposed rulemaking expects speed limiters to result in increased travel times. But small carriers and owner-operators can't just buy more trucks and hire more drivers. Instead, the FMCSA says that they expect the freight which owner-operators won't be able to handle anymore will be "absorbed" by large trucking companies. The net effect would be that "small trucking companies, especially independent owner-operators, would be less profitable with speed limiting devices set."
Because of this reduction of profits, the FMCSA expects that some owner-operators will need to go work for larger companies.
"We expect that some of the affected owner-operators would work for trucking companies as independent contractors," says the report. "If all of the affected owner-operators worked for trucking companies as independent contractors, they would lose $54 million in labor income."
The FMCSA doesn't see that as a problem however since "the agencies do not expect additional costs to the trucking industry as a whole in the near future from this rulemaking."
If you would like to make a comment on the proposed rulemaking, you can do so by clicking this link.
If you would like to read the whole notice of proposed rulemaking, you can do so here.
Source: truckersreport, gobytrucknews, fleetowner, federalregister, overdrive, overdrive, fmcsa