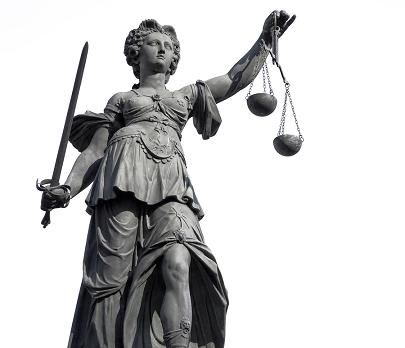 A truck driver claiming to have been imprisoned for 17 days without being charged with a crime is filing a lawsuit in federal court against the county, the county jail, and the sheriff's office of Box Elder County, Utah.
The driver, Robert Kuchcinki, says that he was traveling southbound on I-15 when he "reached across the cab of the tractor to retrieve an item causing the truck to drift out of the lane of travel."
When he noticed his mistake, he quickly corrected it, but that infraction caused a nearby motorist to call the police who pulled him over a few minutes later. Kuchcinki was pulled over by Utah Highway Patrol Trooper Eric Ellsworth and was cited for failure to stay in one lane. The trooper then asked Kuchcinski to take a breathalyzer test and despite a reading of 0.00%, Kuchcinski was then asked to step out of his truck to perform some field sobriety tests.
At the time of the incident, Kuchcinski was being treated for a severe inner ear infection which is known to cause issues with balance. When he performed the tests, the only ones that showed a possibility of intoxication were the ones that had to do with balance. Despite explaining his condition to the trooper, Kuchcinski was arrested on suspicion of driving while impaired and sent to county jail. While being processed, he provided a blood sample.
"From that time until 17 days later, (Kuchcinski) remained incarcerated in the Box Elder County Jail," according to the complaint filed by Kuchcinski. "At no time was he brought before a judge for arraignment and at no time was he formally charged with any crime other than the traffic citation, a mere infraction. Likewise, he was not afforded an opportunity to confer with counsel."
Then after 16 days of incarceration, he asked a trooper if there was any news on when he'd be allowed to see a judge. When the trooper asked him what his attorney had told him and he responded that he hadn't been allowed to talk with one, the trooper left.  The next day he was released after being allowed to meet with an attorney.
On top of the hardship of 17 days of wrongful incarceration, Kuchcinski was fired from his job because he was "arrested for suspicion of driving while impaired…" despite the fact that both his breathalyzer test and blood test came back with a blood alcohol content of 0.00% and he tested "negative for all controlled substances and all other potentially impairing substances for which testing had been performed."
In his complaint, Kuchcinski claims that his constitutional rights were violated because he was denied a speedy trial, notice of nature and cause of accusation, right to counsel, and due process of the law, as well as false imprisonment and violations of state law that allow for bail hearing and arraignment.
He is seeking compensatory and punitive damages.
Next Story: HOS Changes To Bring New Challenges For Drivers, Carriers
Source: landline