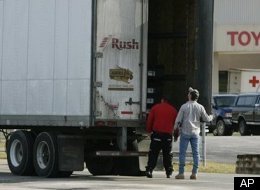 Far from the random crime-of-opportunity cargo theft that amounts for millions of dollars of damages every year, there are some highly organized groups of criminals that form multi-million dollar crime empires based solely off of stealing commercial vehicles and their cargo. One such group of people has received their just desserts.
The Federal Bureau of Investigation issued a report announcing that five individuals were arrested in Ohio on February 7th for their involvement in "a truck and cargo theft ring, stealing from Ohio, Michigan, and Indiana, which resulted in multi-million-dollar losses."
The thieves stole semi-trucks with their trailers still attached. They would then sell the contents of the trailer either to legitimate dealers, as scrap, or on the internet. The semi-trucks and trailers they took to a chop-shop to strip down and sell piecemeal.
Some of the cargo that was stolen included ATVs (all-terrain-vehicles), rolled copper wire, thousands of pounds of aluminum scrap metal, aluminum shavings, diamond plate sheets, and spools of metal. In just four months, the group was responsible for the loss of over $2 million dollars.
The five men that were arrested were Mike Wymer, age 54; Mike Deutsch, age 37; Gary Wymer, Sr., age 55; Terry Wymer, Jr., age 28; and Shawn Wymer, age 27. An additional arrest warrant was also issued for Robert Debolt, age 47. The arrests occurred as the result of a joint task-force made up of the Ohio State Highway Patrol, Federal Bureau of Investigation, Toledo Police Department, National Insurance Criminal Bureau, and the Ohio Bureau of Motor Vehicles.
"I am happy to say this criminal enterprise has now been dismantled and is no longer a threat to the community. This achievement would not have been possible without the hard work and cooperation of all the law enforcement agencies involved," said Captain Brad Weis, Toledo Police Department.
Next Story: Judge To C.R. England: Stop Whining And Pay Your Fine
Source: fleetowner, landline, fbi
Image Source: AP