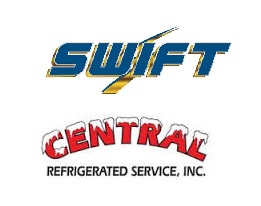 Trucking giant Swift Transportation Co. has just acquired Central Refrigerated Transportation Inc. for close to $189 million. According to the FMCSA's website, Central Refrigerated has 2,616 power units and 2,322 drivers while Swift has 15,212 power units and 14,300 drivers. The deal will make Swift the second largest refrigerated carrier in the United States.
Swift and Central Refrigerated have had close ties for a long time. Jerry Moyes, the chief executive at Swift was the principal owner of Central Refrigerated. The two companies used to share terminals, though they had different reputations as employers among the trucking community.
Swift has acquired numerous smaller trucking companies over the years, all of whom have been absorbed into the larger business.  The companies, Cooper Motor Lines, Arthur H. Fulton, M.S. Carriers, and 8 others were all private companies while Swift is a publicly traded company.
"We are pleased to be acquiring a growing and profitable business at an attractive valuation, diversifying our suite of services," said William Post, chairman of Swift's special committee. "This acquisition will allow Swift to be an immediate player in the over-the-road temperature-controlled market."
Next Story: Driver Vehicle Inspection Reports Not Needed On Defect-Free Vehicles
Source: fleetowner, landline, wsj