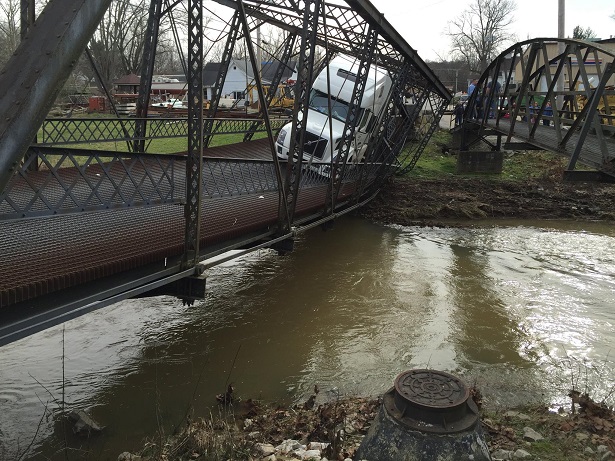 A young trucker has been sentenced to jail time for damaging an historic Indiana bridge after not knowing how much 6 tons was and driving over it despite being far over the weight limit of the bridge.
The 23-year-old trucker was hauling 43,000 pounds of bottled water when she missed a turn to get from U.S. 150 East to SR-37 North in Indiana. She was a local though, and knew another way to get to the Walmart where she was delivering her load. The only problem was that the route she needed to take was over an old steel bridge with a 6-ton weight limit.
After the incident, she admitted that she wasn't sure how much 6 tons was. While she considered turning around, she wasn't comfortable backing up her truck, so she decided to try and drive over the bridge.
By the time the bridge collapsed under the weight of the truck, about a third of the top of the trailer had been ripped off. According to police, for the truck to have gotten that far before coming to a stop, it would need to have been traveling at more than 30 miles per hour.
During her sentencing hearing, the driver apologized for her "terrible mistake." Her lawyer argued that she had damaged the bridge because she was a new driver and until very recently had been a member of the Amish community.
She was charged with disregarding a traffic control device, traveling with an overweight load on a posted bridge and operating a vehicle in violation of a restriction. The judge handed down the maximum sentence of 180 days in jail and ordered her to pay $2,454.84 in restitution to the county in order to cover the cost of the inspection once the bridge is repaired. Repairing the bridge will cost an estimated $750,000 and was covered by insurance.
The young driver was fired from her job and had her license suspended. She will likely end up serving around 90 additional days in prison due to time served.
Source: tmnews, wbiw, indianapublicmedia, wave3, truckersreport
Image Source: Orange County Sheriff photo