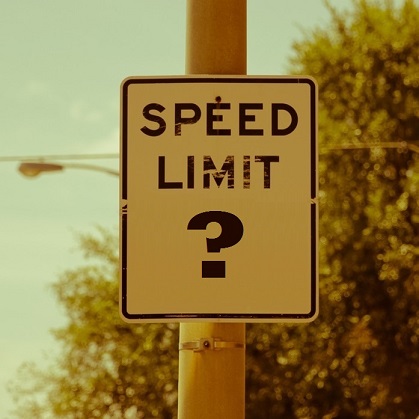 Government mandated speed limiters don't look like they'll be arriving any time soon… if they ever do. A number of regulations that were deemed "ineffective" and "obsolete" have been dropped from the agendas of both the National Highway Traffic Safety Administration and the Federal Motor Carrier Safety Administration. Among the regulations dropped is the CMV speed limiter mandate.
Though it has been in the works for a decade, the mandatory speed limiter rule was proposed in August of 2016. It was a joint proposal from the NHTSA and the FMCSA which would have required every new heavy commercial truck to use a speed limiter.
Unsure of what speed would be best, the proposed rule sought feedback from the industry, suggesting that 60, 65, or 68 mph might be effective, and gave an estimate for how many lives would be saved each year for each speed.
While the ATA has long been in favor of mandatory speed limiters – even praising the proposed rule when it first came out – once they actually took the time to consider the impacts of this particular rule, they spoke out against it. They joined the chorus of other voices pointing out the obvious flaws with the proposal, but maintained that they still support a some version of a mandatory speed limiter rule.
Others in the industry pointed out a couple of important items; that speed limiters can and do actually make drivers less safe by increasing the speed difference between commercial trucks and other vehicles, that enforcement would be difficult if not impossible, and that limiting a driver's options in a dangerous situation can be disastrous.
The Owner Operator Independent Drivers Association recently produced and published a video laying out the dangers of speed limiters and called them a "risky gamble based on flawed logic."
When President Trump entered office, he placed a freeze on all pending regulations (a common practice by incoming presidents), so that his administration could review them. Some regulations, like the Electronic Logging Device rule, were cleared to move forward.
Last week however, when the Office of Management and Budget (OMB) released their policy agenda, the speed limiter rule was conspicuously absent.
This doesn't necessarily mean that it's been canned and won't be coming back, but it does mean that it likely won't be making any forward progress for the foreseeable future.
Source: DOT, gobytrucknews, truckinginfo, fleetowner, truckersreport, truckersreport, truckersreport, truckersreport